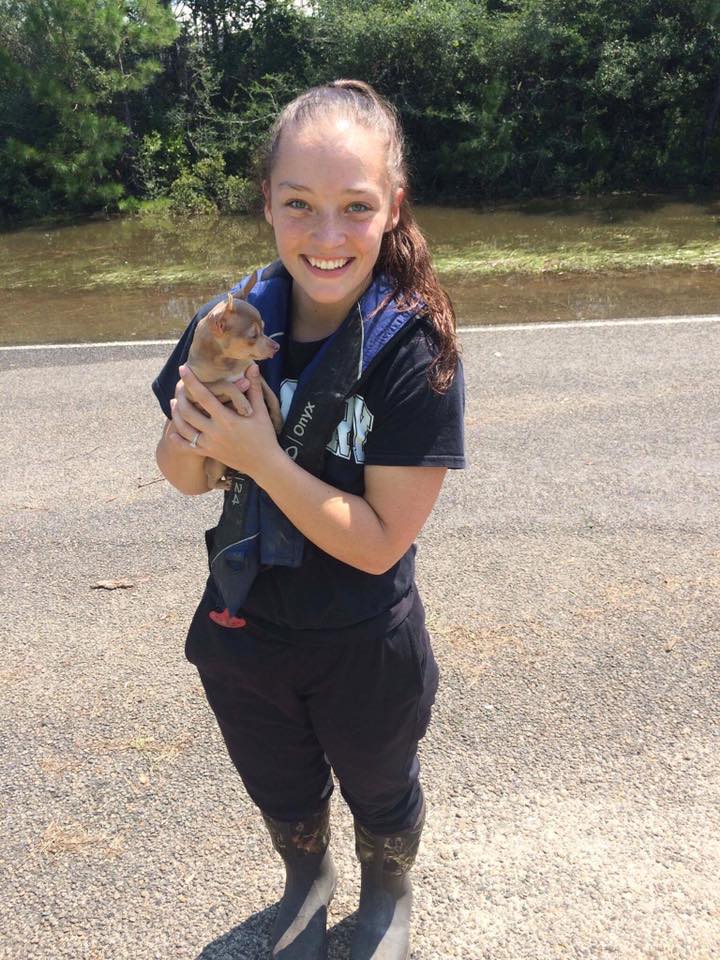 By Jody Kerzman ⼁Submitted Photos
Texas is a long way from North Dakota. Just ask Brooke Larson.
"It's about a 28 hour drive from Bismarck to Lumberton, Texas, which is on the Gulf Coast," she explains.
Brooke knows that because just days after Hurricane Harvey struck the Texas coast, she and her husband, Will, and their friend Zach Jackson headed south to help.
"Will has an airboat and is involved in the Bowfishing Association of America. That group had a lot of guys going down there to help. Airboats and law enforcement boats were the only boats allowed into certain areas," Brooke explains. "Airboats can go on dry land, and there were many places there that you'd go from really deep water to two inches of water, and then to dry land. Airboats were perfect for getting around."
Will had been watching his bowfishing friends' Facebook posts about helping in Texas, and decided he wanted to help too.
"He's just got a heart of gold and seeing his friends helping made him think he could be helping too," says Brooke. "He had a strong desire and the means to go. So we made the decision to go together and help where we could."
They ended up in Kountze, Texas, about 100 miles from Houston.
"When we pulled up to the shelter, a hearse was pulling out. I thought, 'Oh boy. Here we go.'"
The next day they went by airboat to Lumberton, about 11 miles away.
"It was incredible to see how high the water was. Water was to the roofs of houses. It was crazy," says Brooke. "I've seen floods before, but this was extreme."
The three took the airboat around the flooded town, looking for anyone who needed help.
"The people that were still there said their homes were dry, but they were running out of supplies. They couldn't get anywhere to get more food, water, or gas, and they didn't have electricity. We took them by boats to other cities where they could go to a shelter."
The most amazing thing, Brooke says, was that many of the volunteers they worked alongside were people from Lumberton whose homes had flooded.
"Even though they had lost everything, they were still giving every last bit they had to help their neighbors. And those whose houses had stayed dry were lending beds, warm showers, and warm food to us and other volunteers. We were expecting to eat sandwiches for a week and sleep in the tents that we brought. The hospitality was unlike anything I have ever seen."
After two days of helping, the three headed home to North Dakota. It's a trip they'll not soon forget and a trip they'd take again in a heartbeat.
"It's just how we were raised," Brooke says with a shrug. "If you have the means to help someone but you don't that really weighs on your heart. We had to take off work to help. But dropping everything you have and going across the country and helping is really what we are called to do. If we were in that situation we hope that's what people would do for us."
Now, safely back in North Dakota, Brooke says life quickly returned to normal; Zach and Will went back to work, and she went back to school. She's finishing up physical therapy school and getting used to life as a married woman. She and Will got married on July 1.
"I think going to help in Texas definitely strengthened our relationship and gave us some good perspective into what's really important in life," says Brooke.
And although they've travelled more than 1,400 miles together, they still haven't taken a honeymoon. That's planned for January.   
---