By Pam Vukelic | Submitted Photo
Our kids left home years ago but we still have many boxes, bins, and totes in the basement that say "Save for Reed" and "Save for Meredith." I suspect when the time comes to go through them there may not be much that is of value anymore. There is one thing each child had, however, that never went into a "Save for" box. It was the personal recipe book each of them created.
We went through a phase when our children were responsible for preparing one meal a week for the family. Both kids kept track of their favorite menu items in a spiral recipe card notebook. The recipes ranged from the very simple (Tuna Sandwich Filling) to complex dishes (Cheese Soufflé). It included their favorites (Scalloped Potatoes with Ham and Cashew Chicken). The notebook is a compendium of some family standards (Tator Tot Casserole and Chocolate Chip Banana Bread) that are as much about tradition as they are about good eats. And, when they moved out, they took the recipes with them. Reed still refers to his and adds to it (Smoking Alaskan Salmon). Meredith has transferred her recipes to a more permanent book and adds new favorites (Asian Slaw) to it, many of which she finds on Pinterest.
Having your child help with meal preparation is one way to get him involved in cooking. When he prepares it, he will eat it. Being responsible for the whole meal is rewarding. The child experiences the joy of doing something for his family members, especially as they provide praise and encouragement as feedback.
A few guidelines are important to remember. Plan the difficulty of the recipes to match the maturity of the child. The younger the child, the less cutting and chopping in a recipe is a good plan. Also, no-cook recipes eliminate any concerns about burns. Instill good habits from the start. Insist on regular hand-washing, timely refrigeration of perishable foods, and using separate cutting boards for meats and vegetables to eliminate chances of cross-contamination. Assign a particular meal to each child and make it a habit by committing to it every week.
For fun, think of using food as the container. Make a waffle sandwich by putting ham, egg, and cheese between two small waffles, heart-shaped ones if you're Norwegian. Press bread with a rolling pin, coat it with peanut butter and jelly, roll it up, and slice it to make kid-friendly sushi. Lettuce leaves (Butterhead and Belgian Endive) can serve as individual holders for nutritious mixtures of chicken salad.
To  pique your child's interest in cooking, order a subscription to a cooking club. One example is "kidstir." Once a month your petite chef will receive a package containing recipes and tools. Meredith still has some of the small tools and pans that she got through her membership. It would be fun to start a kids' cooking club of your own—choose a theme, decide on a meeting place and schedule, and recruit friends. Use it as an opportunity to try new foods.
Does your child have a favorite literary character? Check out a book listing to see if there is a related cookbook. Some examples are "Cooking for Muggles: The Harry Potter Cookbook," "American Girl: Breakfast and Brunch," "Fancy Nancy: Tea Parties," and "The Little House Cookbook." There are numerous cookbooks designed to appeal just to boys, too.
As I write this I'm monitoring the status of a Delta flight from Anchorage. Reed is due in at 11:20 p.m. Though it's late, the smell of one of his favorite recipes from his notebook, Scalloped Potatoes and Ham, will provide one familiar olfactory note of welcome home.    
Click here for Pam's recipe for Scalloped Potatoes and Ham.
---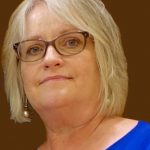 Pam Vukelic is an online FACS (Family and Consumer Science) instructor for the Missouri River Educational Cooperative. Now that her children are grown, she enjoys spending time making memories in the kitchen with her grandchildren, Connor, Elvin, and Claire.
---