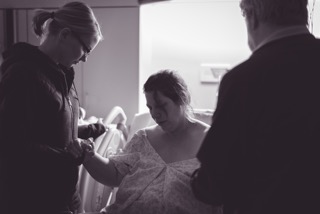 Submitted Photos
Tell us a little about the history of the Bismarck Doula Community (BDC).
In January 2014, Amy Gilliland Ph.D., CD (DONA), taught a three-day doula training in Bismarck, where there had previously been very few doulas. From that class, a group of six newly-trained doulas decided to collaborate their efforts to educate Bismarck and the surrounding areas on exactly what a doula is and does. Since then, the group has officially formed a nonprofit organization and attended over 50 local events, talking to the public about childbirth and how doulas support women.
What do people not know about doulas?
The most common misconceptions are that doulas deliver babies and that we only attend home births. These are not true. A doula's training focuses on the emotions and physical exertion of labor, and does not include any medical training. We attend all births, including those at hospitals! A doula's role is to educate her clients on pregnancy and labor options by meeting multiple times during the pregnancy. When labor starts, the doula joins her client and stays until the baby is born. The doula is the familiar face with the gentle touch and calming words her client knows she can count out throughout all of labor, fast or slow.  Most of the doulas in the Bismarck Doula Community are also Certified Lactation Counselors who can help establish a great breastfeeding relationship after baby is born too.
What makes you different?
We are all individual business owners, but since the concept of doulas is so new to Bismarck, we've chosen to partner together with the same goal in mind: to help our community understand how doulas benefit all types of birth as well as to educate families about their options and choices for birth in our community.
How can people get involved?
Anyone who is interested in becoming a doula can contact us through our Facebook page or email to learn more. There are a lot of different doula trainings available, but we recommend a high quality, in-person training with someone credentialed through a reputable organization like DONA International. We also host monthly 'Coffee with the Doulas' events where people can drop in and learn more about doula work.
How can people contact you?
There are several ways to contact us. Email us at  BismarckDoulaCommunity@gmail.com. We also have a website, BismarckDoulaCommunity.com. And we are on Facebook and also Bismarck Baby Expo.
What are you needs right now if someone wants to help?
We are busy planning our fall event, the third annual Bismarck Baby Expo, October 6-7. We would love new vendors, new activities, and new ideas. Please email if interested.   
---