By Lisa Dingeman
Fall is in the air—the weather is getting cooler and the kids are back in school. But physical education may not be a part of every child's school day; according to the U.S. Department of Health and Human Services, only six states require physical education in every grade, K-12.  So we parents owe it to our children to keep them physically active while at home. It can be a challenge to find ways for your kids to burn off extra energy. I've devised a list of fun, interactive indoor games for my own family to stay active. I'm sharing with you because the positive side effects are lasting and nothing short of amazing!
Simon Says: Exercise. Simon Says can be a good way to get the whole household engaged. By taking turns, everyone gets a chance to come up with unique ideas and be the boss for a little while. Make it fun by thinking up different exercises, such as bouncing on one foot or break dancing.
Hide-and-Seek. My three-and five-year-olds are all about hide-and-seek right now. Because they usually rat the other one out after they have been found, we've incorporated a way to keep them busy so the other one gets a fair chance to be found. Whoever has been found has to jog in place, or in circles in our case, until the others have been located.
Sing and Dance Party. Again, with young children you can never go wrong with singing and dancing. As long as it's structured chaos, this is something that I can get on board with. Throw on some fun tunes and let your little ones show off their great dance moves and outstanding karaoke skills.
Game of Dice. I found some pretty cool and cheap dry erase dice on Amazon. Playing a game of dice with your own workout ideas on each side of the die is a unique way to get everyone to participate. Give everybody the opportunity to jot something down. It will be more engaging for the older kids when they have a say in what is done, adding a little humor, too!
Scavenger Hunt. Scavenger hunts can be fun at any age and can be a good way to get more than one use out of the Easter eggs that hide out in storage the rest of the year. Fill up the eggs with an assortment of handwritten activities, such as jumping jacks, burpees, or sit ups. (It's a good idea to keep the older kids interested by keeping them guessing.) Put a few surprises in the eggs, maybe a couple dollar bills for the older kids and quarter machine toys for the little ones.
Tape Games. There are endless possibilities when it comes to using tape. You can make a hopscotch pattern on the floor, create fun obstacle courses, or tape lines on the floor and challenge the kiddos in some long-jumping. If you want things a little more structured you can use the tape to make boxes on the floor and play musical boxes instead of musical chairs.
Not only is exercise a good way to keep your kids active during the colder months, it is important for their growing bodies. With regular exercise—at least  three times a week for 30 minutes—comes development and strengthening of the muscles as well as building powerful bones. It will also help decrease the risk of type 2 diabetes and heart disease, and lower blood pressure and blood cholesterol levels. It will keep their self-image and self-esteem high while improving their attention span—not to mention the positive outlook they will have when you show them your excitement for physical activity.    
---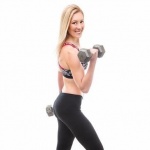 Lisa Dingeman is a devoted wife and the proud mother of two boys. She is a personal trainer at Family Wellness in Mandan and also participates in tness competions. Lisa has devoted her life to faith, family, and wellness.