By Pam Vukelic
Summer celebrations! Family reunions, Fourth of July picnics, neighborhood gatherings, and trips to the cabin. These memory-generating events often include a few favorite family foods. Are there dishes that you count on someone to bring because the holiday meal just wouldn't be tradition without it? In our family, they're seasonal. We lay off the krumkake, rosettes, Swedish meatballs, and, with little reluctance, the lutefisk, in the summer. I hope you'll enjoy a few of our family's summer favorites.
Cinnamon Applesauce Jello
This recipe was submitted by Lila Evenhus to the Maddock North Viking Lutheran Church recipe book published in 1988. This dish makes an appearance at nearly every family gathering and has become a favorite of nieces and nephews across the country. The bright red jello, with just a bit of cinnamon heat, appeals to even the youngest among us.
1 cup water
1/2 cup cinnamon candies (e.g., Cinnamon Imperials)
1 3-ounce package lemon Jell-o
3/4 cup unsweetened applesauce
Heat water and cinnamon candies over medium heat, stirring constantly, until candies are dissolved. Remove from heat, add jello and stir until dissolved. Stir in applesauce. Pour into bowl and let stand in refrigerator until set.
Scotcheroos
Many pans of Scotcheroos made their way to my classroom at Bismarck High School to celebrate special occasions. And they are a family favorite, too. This is a great time to use fun sprinkles like red, white, and blue stars. Be sure to add before chocolate has time to cool.
2 1/2 cup white corn syrup
2 1/2 cup sugar
2 1/2 cup peanut butter
11-12 cup corn flakes
Frosting
1 cup semi-sweet chocolate chips
1 cup butterscotch chips
seasonal sprinkles
In heavy saucepan, heat corn syrup and sugar to boiling. Boil for one minute and remove from heat. Add peanut butter and stir until melted. Place corn flakes in a large bowl. Pour peanut butter mixture over and mix well to thoroughly coat the corn flakes. In a lightly greased 12 x 16-inch pan evenly spread the mixture, pressing with waxed-paper-covered fingers to compress. In microwave safe bowl heat and stir chocolate and butterscotch chips until melted. Spread chocolate frosting evenly over corn flakes mixture.
Grandma Irene's Calico Beans
This is one of Jim's mom's go-to recipes for family gatherings and a clear family favorite. It is also one that gets better the second or third day, when the flavors have really had time to blend, so make enough to ensure leftovers.
½ lb bacon, fried and cut into small pieces
1 lb ground beef, browned and drained
1 15-oz can each of dark red kidney beans, butter beans, lima beans and Great Northern beans, rinsed and drained
1 15-oz can pork and beans
½ c onion, chopped
½ c ketchup
2 T cider vinegar
1 T molasses
½ c brown sugar
1 T prepared mustard
Salt and pepper to taste
Combine all ingredients in large baking roaster. Bake in 325 degree oven for one hour or heat for several hours in crock pot to blend flavors.
Grandma Mary Lois's Strawberry Shortcake
My parents lived in Maddock nearly all their married life. They were blessed with wonderful friends— Heitmanns, Neumanns, Rices, and Hauknesses to name a few—who regularly spent evenings together visiting and laughing. It was a priority, even after a hard day's work. Although my mom was most famous for her pies, strawberry shortcake was a standby. The cakes could be made quickly from ingredients we always had on hand. Since we had a quart of farm cream delivered to our house every week (in part, so my dad could eat cream on bread) we always could make fresh whipped cream. When I taught my Bismarck High foods class students how to make whipped cream someone remarked, with amazement, "This is so cool – fake Cool Whip!"
2 cup flour
2 tablespoons sugar
1 tablespoon baking powder
1/2 teaspoon salt
1/3 cup butter
1 egg, beaten
2/3 cups milk
salt to taste
Whipped cream
2 tablespoons sugar (this is a good place to use vanilla sugar)
1 cup whipping cream
Chill metal bowl and wire whisk. Beat briskly until desired consistency.
Strawberries
Hull, wash, and quarter strawberries then sprinkle with sugar and let stand several hours.
Sift together the four dry ingredients. Cut in the butter until particles are the size of coarse crumbs. Add egg and milk and stir until evenly combined. Drop on greased baking sheets (or parchment-lined pan). Sprinkle with sugar. Bake in a preheated oven at 450 degrees for 10 to 12 minutes until golden brown on top. When cool, split in half like you would a bun, top with a dollop of whipped cream and a few strawberries, put the lid on and repeat with cream and berries.
---
Incorporating red, white, or blue foods is an easy way to make your holiday (Fourth of July, Labor Day, Memorial Day) meal more festive, too. Try blue corn chips, red beet chips, or blue potato chips. Layer red jello, whipped cream, and blue jello in parfait glasses. Make your potato salad using Purple Passion potatoes (blue skin and meat) and Ruby Sensation (red skin) potatoes. Prepare a berry compote of blueberries, raspberries, and strawberries. Create a trifle by layering cubes of pound cake with berries and cream. Or, take advantage of the numerous special candy items in red, white, and blue wrappings. Don't forget the bunting and flags. Play some family games, blow some bubbles, and light some sparklers!   
---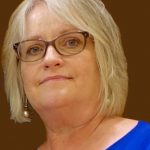 Pam Vukelic is an online FACS (Family and Consumer Sciences) instructor for the Missouri River Educational Cooperative. Pam splits her time between Bismarck and The Villages in Florida. She loves to entertain and strives to serve great food for every holiday.