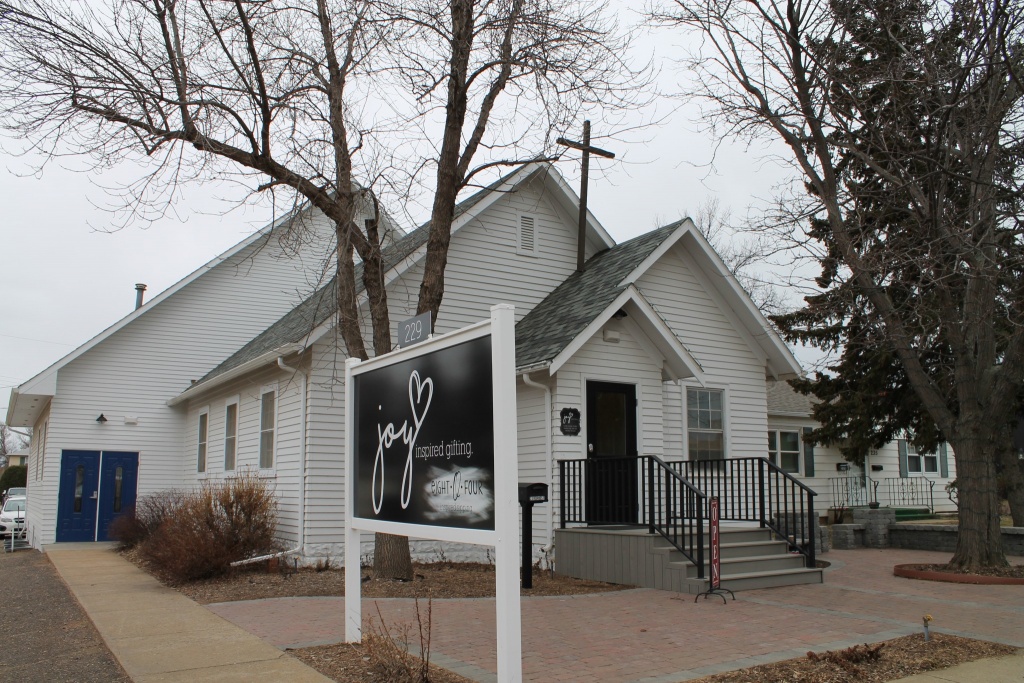 Article and Photos by Stephanie Fong
Jackie Hoff and her mother Barb Dohrmann always dreamed of owning a gift shop together.  They had crafted and attended numerous craft fairs and running a store in Dickinson was a hoped-for project they both looked forward to.
As Barb battled cancer for six years, the dream was pushed to the back burner.  When Barb passed away last June, the family all felt a deep hole where Barb used to be.
Then, a few months after losing Barb, things started falling in place to make their dream a reality.
Jackie is the business manager for The Real Estate Co., the Hoff's family-owned realty company. She saw a listing for the former Emmanuel Baptist Church location in downtown Dickinson. After stepping into the church, Jackie knew within a couple of hours that the dream of a shop was meant to happen.
"It just came to me—this is something I've got to do. It was just a feeling."
Joy: Inspired Gifting was underway.
Jackie and her daughter, Amber Kuntz, dove into the project, involving their entire family along the way. A fast and furious couple of months ensued.
"From closing on the building to our first day of business, it was a just over two months," Jackie laughs.
Amber's husband, Kyle, supervised a total remodel of the building. Family members of all ages pitched in to get the project done.
Jackie spent long hours searching for vendors, building a product line from scratch. Many of the items carried at Joy not only fit the style of the shop but also are companies with a cause that give back.
"The vendor and product choices were totally intentional," they explain. "It's important to be able to find things that make a difference."
Amber's writing style shows through in the unique branding and social media marketing for Joy.  
And the name?  
"Joy was Grandma's word. She was always saying, 'joy, joy, joy.'" She was such an inspiration to all of us and to anyone she met. This was a way to spread her joy even though she's not here anymore," Amber shares. "Working on Joy became sort of a healing process. It was all something we could all work on together and do for her. It just feels like she's here.  And Mom [Jackie] really put in so much heart and dedication to this project.  She's such an amazing woman."
The former church is fresh and full of light, housing a gift shop stocked with décor, greeting cards, candles, purses, accessories, baby items, a literal sleigh full of pillows, and more.
And there's coffee, too.
"Grandma [Barb] loved fellowship and offering ways for people to come and have conversation, and have Bible studies, and the coffee shop serves a backdrop for that," Amber points out.
Eight•0•Four: Inspired Sipping was named after Barb's birthday—August 4.  It boasts all homemade items, from the syrups used in specialty drinks to the baked goods available each day.  Jackie and Amber are happy to bring in local talent and products, utilizing a roaster from Fargo and getting their tea out of Bismarck.
Jackie continues to do part-time bookkeeping at the realty office, but most of her time is now spent at Joy. Amber, a realtor alongside her dad and husband, and mother of four, tries to be at Joy as much as time allows.
"Find something you are passionate about," Amber says when asked for advice to others thinking about launching their dream. "Because when it is a heart-driven business, you want to devote that time and energy to it. It means a lot. That's the driving force behind Joy."
The mother-daughter team says their goal is for Joy to become a long-term staple in the Dickinson community, noting they already are dreaming of future community events and involvement.
"Stay tuned!" Jackie smiles.   
---
Stephanie Fong lives in Dickinson with her husband and two busy toddlers. She holds degrees in English, communications, and education from Concordia College in Moorhead, Minnesota. In rare spurts of free time, she enjoys trips to Medora, reading cookbooks, and channeling her inner Pioneer Woman.
---