By Pam Vukelic
The best advice I've ever received for hosting a celebration is to keep it simple enough that you, as the host, are able to enjoy it, too. I think the way to ensure that is to do as much ahead of time as possible. Here are a few suggestions for various food "bars" that help you meet that goal and also enable your guests to fine-tune their selections to their own tastes.
Asian Lettuce Wraps
A head of Boston butterhead lettuce, separated into individual leaves, will work great for lettuce wraps. The leaves are cup-shaped and pliable; they won't crack like a leaf of iceberg lettuce might. For fillings, cook up some ground turkey with seasonings of your choice, making it as spicy, or not, as you like. Add-ins could include small salad shrimp, shredded carrots (buy them shredded as they are more substantive than if you shred them yourself on the dreaded knuckle-buster box grater), add something a bit crunchy (chopped peanuts or water chestnuts), and offer a couple of different sauces (Thai peanut sauce, sweet chili garlic sauce, Brianna's Ginger Mandarin dressing, or soy sauce). Make the leaves into holders by first folding up the bottom then rolling in each side, like a burrito. These are delicious, light, and nutritious, however, they are a bit tricky to handle so it is best if guests are able to sit at tables when eating. Provide plenty of napkins!
Taco Bar
When preparing your taco meat, (I usually use ground beef), add in drained and rinsed canned black beans. This stretches the meat, adds some nutritional value, and helps a bit with cohesion of the ingredients, especially if you crush some of the beans. In addition, I stir in some tortilla crumbs to serve as a binding agent and liquid absorber. They come in a shakable canister just like bread crumbs and also add a bit of a corn meal flavor, compatible with a taco mix. Offer a choice between soft and crisp shells. For ease of eating you might choose the "standable" flat bottom shells or the boats (Fiesta Flats) that are available in some stores. If you ever see blue corn taco shells on your supermarket shelves, snatch them up. They are my favorite but less readily available. A tip for easier eating is to line your crispy shell with a leaf of lettuce before adding the other fillings; it helps to keep all your taco fillings together in your shell once you have bitten into it. Buy shredded lettuce to cut down on your time commitment and, because it is quite fine, it makes building the taco easier for your guests. Grated cheese or crumbled queso fresco provides the perfect last layer. Offer a variety of sauces of different heat levels. Look for those in squeezable bottles for the easiest application.
Baked Potato Bar
For a more filling alternative, scrub a bunch of baking potatoes the day before your party. Let the potatoes dry well. Prior to baking on party day, rub them with a bit of oil and pierce at least a couple of times to avoid an explosion in the oven. The sky is the limit with toppings for baked potatoes—various meats in sauce, such as barbecued chicken, pulled pork, and creamed turkey are all possibilities. Steamed vegetables would be another option that would please guests who avoid meat. Broccoli, cauliflower, and carrots are very colorful and could be offered in a cheese sauce. Butter, sour cream, grated cheese, chopped chives, bacon bits, or crispy fried onions (from the can) would all be great toppings.
Sundae Bar
If sweet is what you're looking for, a sundae bar could be so much fun! A brownie base, maybe baked in muffin pans or small individual cake pans to get delightful no-crumb shapes, is a great start.   If you're really ambitious, check online for instructions on making cookie bowls. They could easily be done ahead of time and would add a wow-factor. Two flavors of ice cream (vanilla and chocolate) are plenty because you'll have a variety of toppings. I've recently discovered Vanilla Almond cereal (Kellogg's Special K). Some of that slightly crushed provides just the right amount of crunch as a topping, and the almonds are already there. Or, finely chop up some Girl Scout cookies; Thin Mints would be my go-to choice. Then, go as wild as you like with sprinkles, various nuts, granola, and, of course, an assortment of sauces (e.g., chocolate, caramel, butterscotch, and raspberry), again in squeezable bottles.
Almost all of these preparations can be completed ahead of time and all you need to do the day of the party is put the components out. Don't hesitate to engage guests who arrive early in helping with the set-up. They'll feel useful and might even spot an omission that can be corrected at the last moment. Remember, the goal is for you to enjoy your event just as much as your guests do! Bon appétit!   
---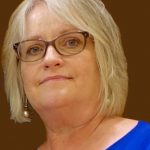 Pam Vukelic is an online FACS (Family and Consumer Sciences) instructor for the Missouri River Educational Cooperative. Pam splits her time between Bismarck and The Villages in Florida. She loves to entertain and strives to serve great party food.