By Pam Vukelic
I had a brief moment of panic when I learned this issue of Inspired Woman was going to focus on pets. I've never had pet.  I did empty Furmann's litter box a few times but that is as close as I've come to having a pet. Furmann was my daughter's cat, named after Firemann (pronounced furmann), my much beloved father. I'm less capable of caring for Abe, my son-in-law's golden retriever, so am grateful that when "the kids" need help they trust me with Claire, now a perfectly delightful toddler, instead of Abe.
I do like to read, however, and I love books. For this article I decided to embark on the mission of finding a few books written from the point of view of an animal. It proves to be quite an interesting perspective and was a fun research project. I am indebted to friends and neighbors for making suggestions and for reviewers whose material I have copied. What follows is a list of some books that even a non-pet owner might find enticing.
DOGS
"The Art of Racing in the Rain"
by Garth Stein (2009) Amazon 4.7 stars
Savor this book for many reasons: a dog who speaks, the thrill of competitive racing, a heart-tugging storyline, and, best of all, the fact that it is a meditation on humility and hope in the face of despair.
"A Dog's Purpose"
by W. Bruce Cameron (2011) Amazon 4.8 stars
A tail-wagging three hanky boo-hooer, this delightful fiction debut proposes that a dog's purpose might entail being reborn several times. A book for anyone who admires canine courage, the author successfully captures the essence of a dog's amazing capacity to love and protect.
SHEEP
"Three Bags Full"
by Leonie Swann (2008) Amazon 3.9 stars
In this refreshingly original detective story a flock of sheep investigates the murder of their beloved shepherd. Leading the effort is Miss Maple, considered the cleverest sheep. She slyly "pretends" to graze while eavesdropping on suspects. The author's sheep's-eye view and the animals' literal translation of the strange words and deeds of the human species not only create laugh-out-loud humor but also allow the animals occasional flashes of accidental brilliance.
CATS
"The Dalai Lama's Cat"
by David Michie (2012) Amazon 4.7 Stars  
Spend some intimate time with the Dalai Lama as glimpsed through the devoted eyes of his gorgeous (self-described) Himalayan rescue cat. The author, an expert on Buddhism and mindfulness, shares Buddhist principles through everyday situations, not for purposes of conversion, but to create greater happiness. This charming and highly entertaining book will cheer you up and warm your heart.
"A Street Cat Named Bob: And How He Saved My Life"
by James Bowen (2014) Amazon 4.7 stars
Only a heart of stone will not be moved, even to tears, in bearing witness to the love of a London street musician for the gorgeous ginger tomcat he found one day in his apartment building hallway. The cat, soon called Bob, was injured, so Bowen took him in. This is a beautiful, never maudlin story of second chances for both man and beast. It is a poignant testimony to how much caring for someone, or, in this case, some feline, can give you renewed direction when you're down and out.
FOR CHILDREN
"Pearl's Ocean Magic (Number 1 in the Dolphin School Series)"
by Catherine Hapka (2016) Amazon 4.7 stars
Pearl is a magical dolphin of the Salty Sea and today is her first day of school. Her classmates Echo and Splash make great new friends. Together they start learning dolphin skills like magic, music, and jumping.
"Eva's Treetop Festival: A Branches Book (Number 1 in the Owl Diaries Series)"
by Rebecca Eliott (2015) Amazon 4.6 stars
This adorable early chapter book series is perfect for young girls who love friendship stories starring animal characters. The series is part of Scholastic's early chapter book line called Branches, aimed at newly independent readers. With easy-to-read text, high-interest content, fast-paced plots, and illustrations on every page, these books will boost reading confidence and stamina.
"There Is a Bird On Your Head! (Elephant and Piggie Series)"
by Mo Willems (2007) Amazon 4.9 stars
Gerald is careful. Piggie is not. Piggie cannot help smiling. Gerald can. Gerald worries so that Piggie does not have to. Gerald and Piggie are best friends.
Other books that come to mind are "Black Beauty," "Jonathan Livingston Seagull," "Call of the Wild," "Timbuktu," "War Horse," and "Watership Down."   
---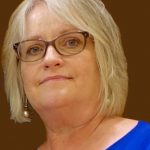 Pam Vukelic is an online FACS (Family and Consumer Sciences) instructor for the Missouri River Educational Consortium. Pam is also grandma to Connor, Eivin, and Claire. She splits her time between Bismarck and The Villages in Florida. And if you need your cat's litter box changed, call someone else, please.