By Jody Kerzman
Make all the plans you want, but sometimes, life just doesn't go the way we expect it will. No one knows that better than Tahni Cullen.
After graduating from Timber Lake, South Dakota high school Tahni attended college at the University of Mary. She met her husband Joe there, and after college the couple moved to the Twin Cities to start their careers and family.
In October 2005, the couple welcomed their first son, a healthy, happy baby boy they named Josiah. Life was good. But when Josiah was 22 months old, something changed.
"Josiah experienced a dramatic shift, lost eye contact, words, and play skills, and was ultimately diagnosed with autism," recalls Tahni. "The boy my husband and I once knew looked like someone had switched off his light."
Then, five years later, something miraculous happened with their non-verbal son.  
"While reading to him from the children's Bible about how Jesus healed the blind man, I waited for him to spell the word 'heal' on big alphabetical buttons of his iPad," remembers Tahni. "Instead he typed something different, and my mouth dropped open."
Josiah had typed, "God is a good gift giver."
Shocked, Tahni asked her son how he did that, he responded with, "God is everlasting Jehovah."
"My husband and I don't even use these words, so reverent and formal. Josiah had never heard, much less spelled, any of these words before. I knew then and there that these words were bigger than Josiah."
Since his first sentences as a seven-year-old boy, Josiah quickly moved to typing profound paragraphs about God, science, history, business, music, strangers, and heaven. Not only did his parents start getting to know their son's everyday thoughts, but he has revealed countless heavenly wisdom, angelic encounters, and told stories of family members in heaven—all self-initiated, and through painstakingly pointing, one letter at a time, typed communication.
Josiah's new ability to communicate changed the family's life again. Tahni details it all in her new book, Josiah's Fire: Autism Stole His Words, God Gave Him a Voice.
"As this stuff was happening, I knew I had to write this down. I wanted to be able to go back later and see what God was teaching me through this," explains Tahni. "I thought, if anything, I would self publish a book to share with friends and family and to use when I spoke at events."
It was a speaking event that got Tahni thinking about writing a book.
"I had been asked to fill in as a speaker at the last minute at a Christian Women in Media event in Minneapolis," she remembers. "Usually the people who speak at this event are 'somebodies' in the media; whether it's tv, radio, or print, the speakers are usually well-known women. I was not well-known. But the woman who was supposed to speak was called away on a family emergency and called me because she knew me. So I agreed to do it. I shared my story, of our journey with autism, and about Josiah's new-found voice. The place was in tears."
One of the women in the audience was Cheryl Ricker, a Minnesota-based blogger and author.
"It was the first time Cheryl had ever attended this event. She told me she attended because she had a very strong feeling that she would find her next project at that event. She had just finished writing a book about a lady who had been in a wheelchair for 18 years and by a miracle from God, was able to walk again. She approached me and asked if I had ever considered writing a book, and having a co-author. I didn't even know what that meant."
Tahni spent a weekend with Cheryl, sharing her story and getting to know her. She said the two clicked immediately and after much prayer and thought,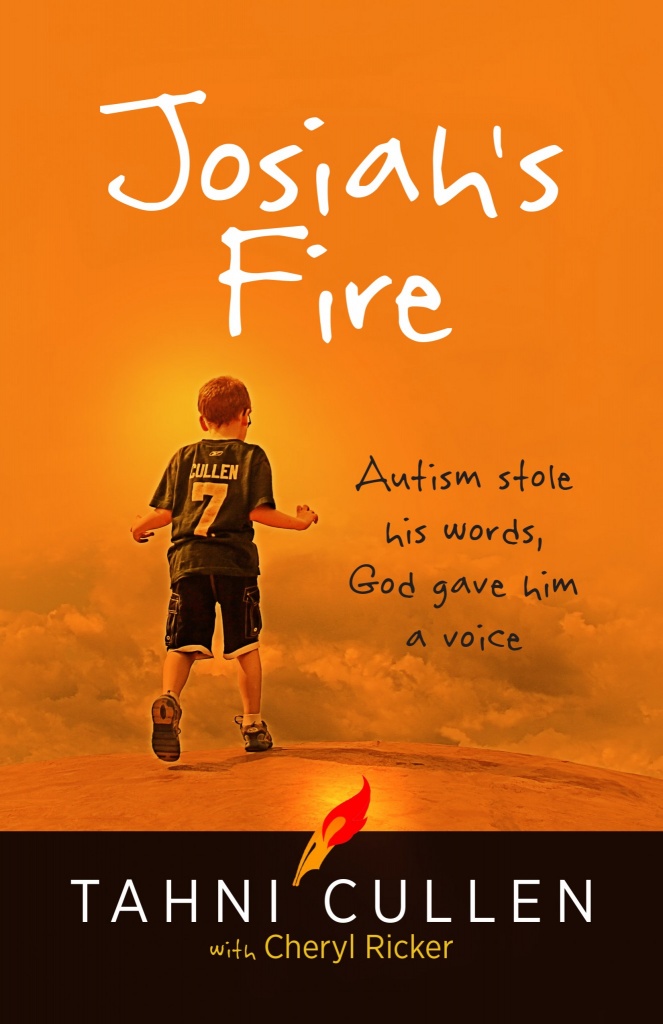 decided to write a book together.
"It has been an amazing partnership all along. The connections between the two of us have been amazing. I have seen God opening doors."
Their book became an autobiographical novel-type story, and it is a true story that is capturing the attention of people across the country. Tahni has been on national radio and television shows, including Fox and Friends, talking about her book and about her son Josiah, opening hearts and minds about autism and about God.
"I don't have desire to be famous," says Tahni. "My walk is to be obedient to God. I have to trust in him, however that plays out."
She does, however, have a desire to educate others about autism.
"Josiah was diagnosed in 2008. People didn't understand autism as much then. At that time, autism affected 1 in 150. Today, it affects an estimated 1 in 50 children, and is the fastest growing developmental disorder in the U.S. Despite our aggressive efforts to help him in every way possible, Josiah landed on the severe end of spectrum, as one of the 40 percent of children with autism who are nonverbal."
Tahni's efforts to educate started long before she had the idea to write a book. When Josiah was first diagnosed with autism, Tahni blogged through the ups and downs of their early journey, and she and her husband, Joe, produced an award-winning documentary called "Surprised By Autism."
"We want people to know that no matter how difficult the diagnosis seems, there's always hope with God," said Cullen. "We could have never imagined that we would 'hear' words from our nonverbal son. God fills the gap where we can't."
Josiah has been involved in the telling of his story from the very beginning. At his suggestion, Tahni started a Facebook page, called Josiah's Fire.
"That was his idea," she says. "We share portions of his quotes and poems. Even though he doesn't have a lot of typical social interaction with people, it's so helpful for him to have an outlet. He loves being able to share what's going on in his heart and mind. That's part of the message I want to share. I want people to know there is an amazing miracle component to this and to look at autism differently, especially non-verbal autism. Sometimes people assume that because they are nonverbal, they have low intelligence. I don't think that's true, and I think it's safe to say that most nonverbal children with autism are actually very smart."
Despite all the good that has happened to the Cullen family, Tahni is quick to point out there are still very real struggles daily. But she is hopeful, for her son and for others like him.
"It gives me hope," Tahni explains. "My continued prayer every day is that the limitations of autism are off of my son. I dream for him and I want him to have dreams for himself, not be stifled by that autism label. That label should not be the final answer."
Since her book was published in September, Tahni says a lot more has happened in the family's life, enough for a second book. She already has the title picked out: Heaven Unsilenced.
Meantime, Tahni is thankful for the technology and learning method that has given her son a voice.
Tahni's book is available on Amazon and at Barnes and Noble.  Learn more about Tahni, her book, and Josiah at josiahsfire.com. You can also follow them on Facebook.
---