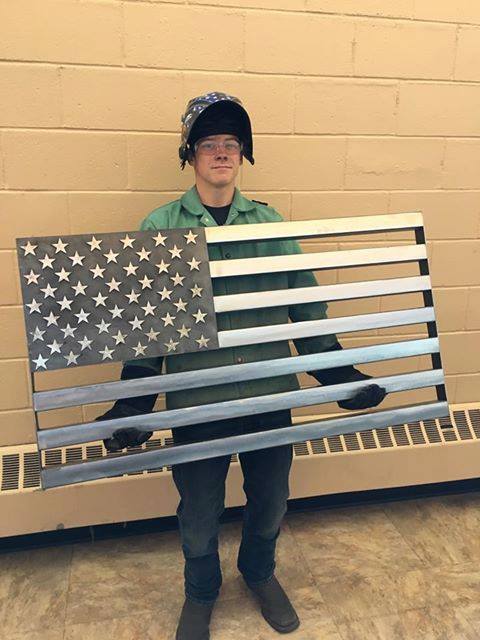 By Marci Narum
Damion Davenport is way beyond the age of getting stars on a homework assignment. He's 17, and a senior at Mandan High School.
But a project Damion completed for his Welding II class this fall has stars all over it—50 of them—and it has sparked a bit of fame for the aspiring welder. It's an all-steel American flag: two feet, two inches by four feet. It weighs 60 pounds and Damion says the first time he saw one like it—it made an impression.
"We took a class trip to Big Iron in Fargo for a welding convention," Damion says. "We toured the Lynnes Welding School while we were there and as I was leaving, I saw one similar to it so I thought I would make one of my own."
Damion says Welding II is a project-based class. His teacher is Luke Melmer.
"I encourage the students to make projects they like to work on. Something they can use, or something they know other people will want or use," says Melmer.
It seems Damion found the perfect project. Mandan High School posted a photo on Facebook of Damion holding his first completed steel flag. The post went viral and since then, Damion has been contacted by people from sea to shining sea asking him to weld a flag for them too.
"I've gotten requests from California and Georgia because Mike Rowe put something on his page, Mike Rowe Works."
Mike Rowe of the TV series Dirty Jobs applauded Damion for his welding and entrepreneur skills. Damion is selling the flags for $200. Despite the national attention he is getting, he is only filling orders for people in the local area. Damion is currently working to fill 40 orders for the flags, and has recruited some help from a classmate to finish them. He works on them any chance he gets, at home and during his two-hour Welding II class period.
Some of the people requesting the flags are military veterans, and that is meaningful to Damion. He says he is considering a career in welding, and perhaps even joining the Army, where he can use his welding skills.
"I've always looked up to the Army and serving our country. If I can use something like that to protect our country, I'd like to. I'm considering it, but I'm not certain."
Damion does know that after graduation from MHS next spring he will travel to Germany with his family's foreign exchange student, Julian. Damion is saving the money he earns from his steel flags for that trip.