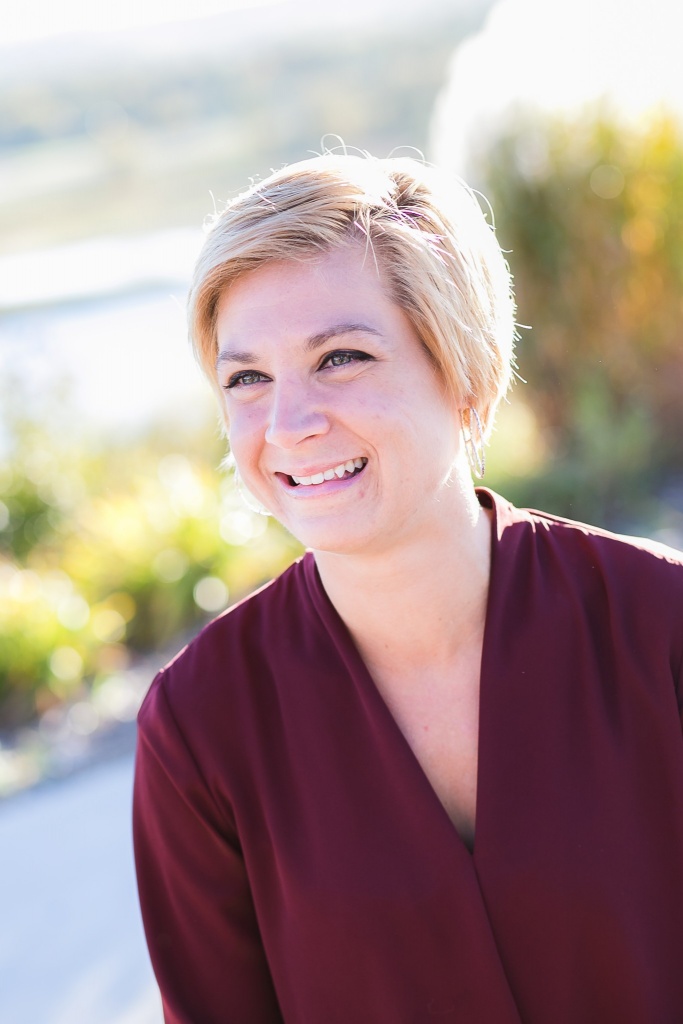 By Marci Narum
Brandi Jude is raising her two adorable little girls to be smart, strong, and confident women. And there is a reason.
Nine-year-old Dakota and six-year- old Evalyn are the faces of innocence. They adore their mom. The girls squeal and giggle with delight as Brandi tickles them. The girls pick flowers for their mom, give her hugs, and kiss her cheek. Brandi and her girls love to bike the trails of Bismarck, and hike at the Indian Village Park overlooking the Missouri River. It is some of the most precious time for Brandi because when she's not hiking or biking with Dakota and Evalyn, she is blazing her own trail.
This 30-year old, single mother spends her evenings working as a server at Pirogue Grille in Bismarck, while her days are consumed by meetings, organizational development, and grant writing for the only non-profit of its kind in North Dakota. Brandi is the founder and executive director of Invisible Innocence, a transitional housing program for survivors of human trafficking.
"There are organizations that work with domestic violence and sexual assault victims that have started opening their doors but there is not an organization that is strictly for human-trafficked individuals," Brandi explains.
"The model structure I'm bringing to North Dakota is new here. There is a similar model outside the state that has proven to be very successful in its operations."
Brandi says the goal of Invisible Innocence is to empower survivors by giving them a temporary place to live and supportive services to prepare them for the next step: independence from the life of human trafficking. She says survivors will be sheltered for 30 to 45 days in a safe, undisclosed location.
"We want to get them off the street and make sure their pimp or their employer can't get a hold of them and then move them out to the organization that is going to help them dig in deeper and get out of the trafficked environment and lifestyle.
"Being a temporary location instead of permanent is what sets Invisible Innocence apart from other organizations," she says. "We want to be able to get them transitioned to an organization that has a program specifically developed for the type of human trafficking that person endured."
Invisible Innocence will shelter survivors of domestic servitude, forced labor, and sexual exploitation, including men, women, members of the LGBTQ community, and children.
"It's important that we aren't discriminating against a gender or a type of trafficking in North Dakota."
Brandi says as she develops the Invisible Innocence program she is already in contact with people from other organizations who work with victims of human trafficking and have a history and knowledge of slavery. She says they understand the psychological development and trauma that occurs in trafficked individuals.
"So when we are developing the training program for our staff they will be more capable of building that rapport and relationships, and empowering those survivors."
Brandi says one of the most common questions she is asked is whether human trafficking is really an issue in North Dakota. She calls it slavery, and says it still exists everywhere, in ways one might not even imagine.
"Slavery has never ended. If you think about it, human trafficking is modern day slavery. It's just morphed into a different look. So there isn't one type of trafficker or one type of person being trafficked. The difference is the way people are being trafficked does look different."
She points to the internet as just one example of sexual exploitation.
"It's a huge resource for buying and selling humans and it's very easy for a predator because many social media pages that adolescents, teenagers, and kids use are where traffickers find their targets."
Victims of labor trafficking, Brandi admits, can be harder to identify.
"It can be someone working in a restaurant, hotel workers, or laborers on farms. We are a very rural state, so it can be challenging to find those workers. Because how do you address it? How do you approach someone that you think is being forced into labor?
"In restaurants or hotels, labor trafficking happens to people who work behind the scenes. The legal minimum wage is $7.25 per hour for cooks and dishwashers. Employers can legally pay servers a lower wage, though, such as $4.25 an hour. They might not be getting paid at all, or they might be getting paid but it's an unlivable wage. It might only be $1.00 a day. In some cases the individual is in 'debt bondage,' owing the employer for bringing them to North Dakota for employment and a place to live. They get caught in a horrific cycle that seems inescapable."
Brandi says domestic servitude can also be easily hidden.
"It happens within the home; the victim is not allowed to leave. Instead of living in an apartment somewhere, the individual is forced to live in a closet or a garage, and has the bare minimum for survival. It can be a nanny or a maid. Even with developmentally disabled individuals, the guardians, family members, or friends might take over someone's disability or social services benefits, and force the individual to work long hours with no time off."
These scenarios will likely be foreign and difficult to imagine for most people. Brandi has witnessed all of them. And although it hasn't happened to her personally, she believes having the passion to help survivors of human trafficking is reason enough to do what she is doing.
"I don't have some horror story to share with people, so that isn't my driving force. But I know this is a global issue. I've seen the struggle, the abuse, the greed, and the manipulation that comes with it. And just knowing that I'm someone with the stability, why not? It's just the right thing to do.
"I have witnessed different forms of human trafficking here in Bismarck since I was in high school, as well as when I was serving in the military overseas. In high school it happened to a friend and I didn't know how to help. Her boyfriend kept her in an apartment and sold her to businessmen who came to town for meetings. The only thing I could do was help pack her clothes and get out of there. I have carried a lot of guilt that I couldn't do more at the time."
When Brandi returned home after serving  overseas in the Army she went back to her high school and met with the the school counselor.
"I wanted to know if there was anything in place to make students aware of human trafficking, but she told me the topic was too heavy to bring up to high school youth.
"Human trafficking is horrific. It's slavery. But something good can always come from something negative. And if you focus on being a voice for the invisible and help them regain their innocence, then you're doing something. That's where the name came from. These people are invisible even though they are in plain sight and their innocence is being taken away for greed, and other people's benefit."
Brandi says people have said her idea for Invisible Innocence will fail; that this can't be done in North Dakota. But that hasn't stopped her. In fact, it has fanned the flame of her passion and made her more aware of the people who do believe in her dream. It made her believe more in herself too. Brandi applied for the organization's non-profit status on her own—camping out with her daughters for hours this summer in the kid's section of the Bismarck Public Library where she studied tax laws and non-profit legal requirements.
Brandi laughs, "The staff at the library knew us all by first name."
Her hard work and sacrifice paid off. The organization received its 501(c)3 status within 45 days of her application. Brandi is now writing grants to help cover the operating costs for Invisible Innocence. Depending on the funding she receives, she plans to open the shelter in 2017. But she knows she has many more long days and nights of hard work ahead of her.
"It is sacrifice because I work at night. I have meetings all day and then I work until 11:30 at night. I get up and get the kids ready for school and do it all over again. But I wouldn't change anything because I'm doing what I want to do."
And if Brandi's passion isn't enough, there is that other reason. The girls she is raising to be smart, strong, and confident women.
"I'm a single mom and I've been a single mom most of my life. I think that's the best reason to challenge myself because I get to show them, our future generation, our future leaders what it's going to take. It's going to take sacrifice. But that sacrifice does pay off."   
To see more photos of Brandi and her girls by Photos by Jacy, click here. And, click on the video below to hear Brandi talk about Alan, who she calls the "missing puzzle piece."