By Carole Hemingway
On October 13, 1994, I moved from Arizona to Maine to clear my mind and write an honest book about my father, Ernest. The plan was to stay a year at most. One year turned into five, five turned into 10, and in May of 2018 I packed up my worldly possessions—and all were transported to a safe and secure storage vault while I searched for my new digs in Gettysburg, Pennsylvania.
For the most part, it's been a good, productive quarter of a century, however, there's a dark back story leading up to moving out of my coastal home in Maine. 2010 to early 2016 were perhaps the best years—so much so I thought I would stay in Maine forever. Then, the bottom fell out of my world as I knew it when two monthly retainer clients died suddenly between March of 2016 and October 2017. I lost two good friends and a sizable income.
Then in early January of 2017, I slipped on an ice-covered parking lot in the driveway of the condo I rented for the past seven years. I nearly died from my injuries and had to have a full right knee replacement.
My condo was then sold out from under me and closed in March 2017. My lease ended just two months later, and in the meantime, I had my knee replacement. The rehabilitation took 11 months. Still, after two client deaths, it was difficult to make ends meet; the rent was steep even by Maine standards.
All of this was a stressful time and took its toll on me. Divorced since 1985, I was approaching 77 in June 2018. I should have been enjoying my golden years. All the misfortunes sidetracked my business career and my personal life.
My lease expired May 31, 2018, and I drove out of Maine on June 1. By June 5 I was in horse country in Kentucky, where my dear friend Kathy lives. She graciously invited me to spend some down time with her to get my quality of life back. Can  you try to imagine what that was like? I drove 1,203 miles by myself and had a lot of time to think about how to reconstruct my life, facing the 77th summer of my life.
Kathy is blessed to be surrounded by kind, trusting, loving neighbors with names like Mike, Lynn, Tracey, Wendy, Kelly, and Biff, and a rescued tomcat who goes by the name of "Cubby."
You can't make up fictional hospitality, it's either inside you or it isn't. These people have it in full bloom; you don't acquire it like a suntan! In plain English as someone famous recently said, "If you don't love Kentucky, you don't love life."
So far, I've been to 'a come to Jesus' personal time and have attended two Christian services complete with morning coffee, a band, and a pastor who'd had enough of the corporate world.
Recently, Kathy and I visited Old Friends Farm, where owner Michael Blowen gave us the golf cart tour we shall never forget. We were privileged to see another Triple Crown winner cross the finish line at Belmont on June 9; Justify to Rectify was brilliant in his performance and jockey, Mike Smith, beamed with much deserved joy and blessings from above.
I met and was served 'a moveable feast' by Jason Smith, a native Kentuckian who is a Food Network star, and Kathy and I met Tommy Walters, who owns Proud Mary's Restaurant, on the edge of an enchanted river. I ended the week with a one hour Radio Show in Mt. Sterling with Danny Manley.
Life is good. You just have to sometimes get out of your own way, and allow God to lead the way and help you turn the page of a new chapter in your life. On this journey, God has taught me to get comfortable in trusting Him and my gut. I'm starting to feel as grounded and steady as a Clydesdale in the 77th summer, and I have made peace with the past.  
---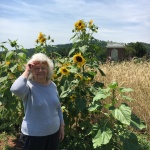 Carole Hemingway is an internationally regarded author, speaker, and historical writer. She recently moved to a horse farm in Kentucky (close to two Triple Crown Winners) and where she is writing three books about Gettysburg.